Vinyl Coated Fiberglass Mesh
Fiberglass mesh is mainly used fiberglass insect screen or sunshade fabrics in many countries. It can be made into window screen, pet screen, fiberglass reinforced geogrid fabrics, fiberglass solar screen and other forms for a wide range of applications.
Features: The fiberglass mesh is well ventilate, easy washing, anticorrosive, resistant to burn, with stable shape, long service life and feels straight.
Application: Fiberglass mesh is widely used for all sorts of airy installation preventing insects and mosquito in construction, orchard, ranch, etc.
Technical Details:
Color available for fiberglass mesh: Gray, white, gray and pale/gray.
Standard width: 200(cm),220(cm).
Standard roll length: 30m.
Composition of fiberglass mesh: 32% fiberglass and 68% PVC.
Performance
Our fiberglass mesh have good grid fixity, and high strength, good adhesion with cement mortar, excellent fitting positioning, excellent alkali resistance is very prominent, resistant to high alkaline substances concrete erosion. Strength retention rate> 90%, elongation <1%, the durability of more than 50 years. High elastic modulus 80.4Gpa, is can't reach by other chemical fibers.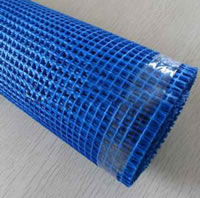 Specifications
1) Alkali resistant fiberglass mesh size: 2.5X2.5mm 4X4mm 5X5mm 10X10mm etc .
2) The weight of Alkali resistant fiberglass mesh :45g,60g,75g,100g,145g,165 etc .
3) We can produce many specifications and use different packagings according to customers' requests.
Technical date sheet
Item Number
Yarn(Tex)
Mesh(mm)
Density Count/25mm
Finish Weight(g/m2)
Tensile Strength × 20cm
Woven Structure
Content of resin%(≥)
Warp
Weft
Warp
Weft
Warp
Weft
Warp
Weft
5x5-70

45×2

200
5
5
5
5
70
550
850
Leno
16
5x5-80

67×2

200
5
5
5
5
80

700

850
Leno
16
5x5-90

67×2

250
5
5
5
5
90
700
1050
Leno
16
5x5-110

100×2

250
5
5
5
5
110
800
1050
Leno
16
5x5-125

134×2

250
5
5
5
5
125
1200
1300
Leno
16
5x5-135

134×2

300
5
5
5
5
135
1300
1400
Leno
16
4x4-135

100×2

250
4
4
6
6
135
1000
1300
Leno
16
5x5-145
360
5
5
5
5
145
1200
1300
Leno
16
4x5-150

134×2

300

4

5
6
5
150
1300
1300
Leno
16
5x5-160

134×2

400
5
5
5
5
160
1450
1600
Leno
16
4x4-160

134×2

300
4
4
6
6
160
1550
1650
Leno
16
4x5-165

134×2

350
4
5
6
5
165
1300
1300
Leno
16